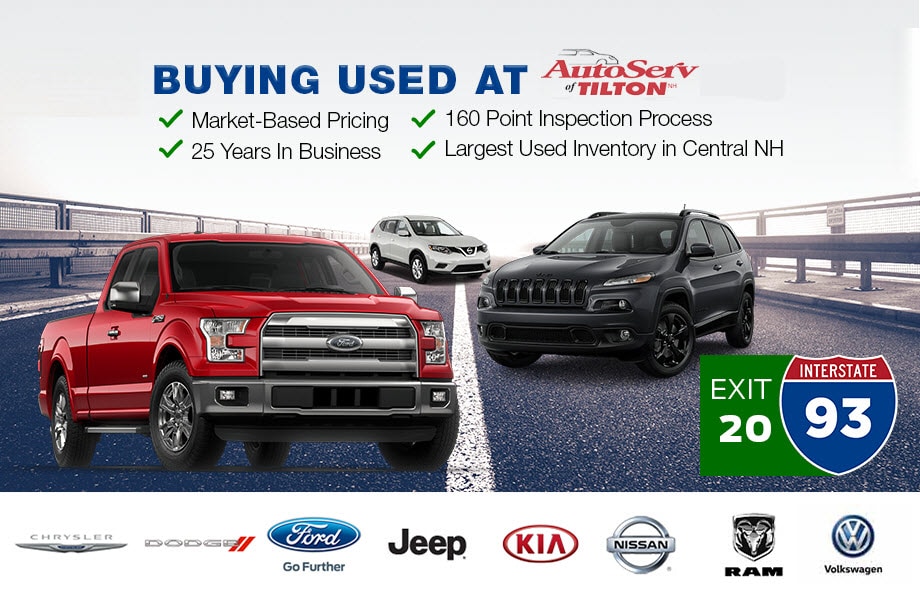 Looking For A Used Car or Used Truck For Sale In NH?
When you're looking for your next car, there are a lot of factors that come into play, especially if that next car is a pre-owned model. Everyone here at the AutoServ Dealership Group is committed to making your car-buying experience as stress-free as possible, meaning we'll be here to answer questions and provide you with information throughout your time with us. Whether you're a first-time buyer or just looking for the right deal on a used car, you've come to the right place. Read our 5 tips for buying a used car and see all the benefits that come with purchasing a pre-owned model at our NH used car dealerships
5 Things to Watch for When Buying a Used Car in NH

While there can oftentimes be a little uncertainty when you buy a used car, we strive to make the process transparent and easy. You should always be thorough when making a car purchase, and we've listed our top 5 things to watch out for when buying a used car in NH. Rest assured that all five of these items, and many more, are covered before we put a used truck, car or SUV up for sale, but we want you to have all the essential info whether you buy from us or not. No one wants to end up with a lemon, so knowledge is power when shopping for a pre-owned vehicle!
5 Reasons to Buy Used Cars in NH from AutoServ

A.F.L. Certified Pre-Owned Process
Every used car we sell at AutoServ is put through an inspection process before it hits our lot. In fact, our AutoServ For Life Certified cars endure a 160-point fully comprehensive inspection process that aligns with the manufacturers' Certified Pre-Owned checklist. We also sell and stock practically every brand of used cars, meaning you can come to us for a pre-owned Chevy, BMW, Toyota, Honda, etc. even if we don't offer new cars from that brand. If you're searching for used trucks for sale in NH or just want the right pre-owned car or SUV, you can find the right fit at one of our many AutoServ dealerships.
What is Market-Based Pricing?
Here at AutoServ, we believe that you should be able to buy a reliable used car for a great price. That's why we offer the most competitive pricing within 200 miles. We sell each and every used car we have in stock at or below the average price for a similar make, model and trim in New England. We check in once a week to monitor and adjust these prices to ensure they reflect the current market value of each individual model. By using a market-based pricing strategy, we're able to sell more cars and reach a wider audience across New England. We stand by the belief that the customer should get the best price possible, so we'd rather sell in volume than increase profit margins for each car. We take a variety of factors into account when pricing our vehicles so you can save big on the used car you need!

The catch is that used cars don't stay on our lot as long as they might at other dealerships. Once you find a car, truck, SUV or van you want with a price you can't resist, it's good to follow up with our team right away. We want to pair you with the ideal pre-owned car, so we want to make sure we have it in stock for you to test-drive and buy. Market-based pricing also cuts out any hassling and the need to negotiate numbers, as we price every car as low as possible for you to enjoy!
Oil Changes for Life
You can stick with us throughout your ownership experience, as we offer free oil changes for as long as you own the car you bought from us ($40 max. per oil change.) We want you to stay on top of routine service, and this is one of the many ways we say thank you for buying a car from us!
AutoServ Has a Proven Track Record for Selling Used Cars & Trucks in NH
The AutoServ Dealership Group has proudly served New Hampshire and New England drivers with quality car sales for more than 25 years now, and we feel we've picked up a strong working knowledge for what our customers want and need. You get added peace of mind when buying from us, too, as we offer a 60-day/unlimited mileage warranty on used cars.
Lifetime Free NH State Inspections
Buy a pre-owned car from AutoServ and receive free NH state inspections for the life of your car. We've found over the years that offering perks like this help us remain connected to our customers and in turn allows each and every driver to get the most value with their purchase. Plus, we don't just do the bare minimum to get our cars to pass the state inspection. That stands true for when you bring back your car year-after-year, but also before we sell a used car in the first place. If we find that something is broken, we'll fix it before we feel comfortable putting it up for sale, even if it's not required to pass the inspection process.

If you have any questions about the used cars for sale in NH at our AutoServ dealerships, feel free to contact us at any time. We're here to make your car-buying experience simple and as fun as it can be!
*Applies to select vehicles. See dealer for details.
Other Resources You Can Review For Used Car Information